Group IT
·
Sweden, Norway
IT Service Owner - Supply Chain
If you are an experienced IT Service Owner/Business Analyst with a passion for delivering high-quality IT services that support business goals, we would love to hear from you.
We are seeking a highly motivated and experienced IT Service Owner/Business Analyst to join our IT department. The successful candidate will play a critical role in ensuring our IT services align with the needs of the business and support our strategic goals, while also serving as a liaison between the business and the IT team.
Hydroscand's growth is accelerating, and our success is being aided by the contributions of Group IT, who are implementing new solutions to support this expansion.

The IT Service Owner - Supply Chain will manage Warehouse Management solutions, Sales and Operation planning solutions and other related areas within Supply Chain in close collaboration with the business. 
Hydroscand is a decentralized organisation where Group IT is supporting our countries and other Group functions to successfully meet their business goals.
 
Key Responsibilities:
Act as the primary point of contact between Group IT and the business, developing and maintaining strong relationships with stakeholders
Ensure IT services meet business expectations, driving high levels of business satisfaction
Manage the lifecycle of assigned IT services, ensuring they are designed, implemented, and retired in a manner that supports business goals
Experience in solution architecture, including business analysis and implementation of technical solutions that align with business needs
Develop and maintain detailed documentation for assigned IT services, including policies, procedures and work instructions that support the delivery of business value
Stay up-to-date with industry trends and emerging technologies, assessing the potential impact on assigned IT services and recommending changes as necessary to ensure alignment with business goals
Qualifications:
Excellent communication and interpersonal skills, with the ability to build and maintain strong relationships with stakeholders at all levels, including senior business leaders
Strong problem-solving skills, with the ability to identify and implement process improvements that support business goals

Relevant Bachelor's degree or similar knowledge
At least 5 years of experience in IT service management, business analysis and/or working experience within Supply Chain with a focus on customer satisfaction and business alignment
Ability to stay up-to-date with industry trends and emerging technologies, and assess their potential impact on IT services from a business perspective.
Experience conducting business analysis, including requirements gathering, process improvement, and solution design
Good knowledge in Swedish and/or Norwegian and our corporate language English
More about us:

We will support you on your journey and will arrange for you to learn and get development opportunities with us. You will become part of an informal working environment. With us, you get commited colleagues who live up to or values: Customer focus, Innovative, Entrepreneurial and trustworthy. From 2022 we are certified as a Great Place to Work.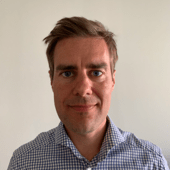 Contact
Johan Jansson
Head of Applications & Development – Group IT
WHY HYDROSCAND?
Take the steering wheel

We want you to put your career in your hands, so you can realize potential and ideas that you never thought possible. But don't worry, we'll be right there with you.

Make an impact

We all want to make a difference. Part of our DNA is to cultivate new ideas. At Hydroscand we think this is essential for staying motivated, being a true team player, and contributing to our overall success. We need you in our fight against downtime!

Enjoy opportunities everywhere

With operations in 20 countries across three continents, we offer extensive opportunities to exchange skills and knowledge with your colleagues worldwide​.

Professional development

For us, a career is a process where you as an employee continuously develop. We support all employees to continuously develop in their current roles and to take on new challenges within the group.
WORKPLACE & CULTURE
Do you love technology? Do you enjoy innovation?
Are you forever striving to make things better?
Are you an international team player?
Awesome! You'll fit right in. Come help us shape the future!
About Hydroscand Group
Hydroscand - an international family-owned business - provides solutions and services for hoses, fittings and related products through a customer-driven and decentralized organisation. With operations in 20 countries, more than 240 hose service branches, over 140 HoseExpress mobile service units and 450 resellers we are always strategically positioned to support our customers' operations. We have over 1,400 employees and serve more than 100,000 customers in Europe, Asia and Africa
Coworkers
More than 1,600
Turnover
€ 300 million (2021)
Group IT
·
Sweden, Norway
IT Service Owner - Supply Chain
If you are an experienced IT Service Owner/Business Analyst with a passion for delivering high-quality IT services that support business goals, we would love to hear from you.
Loading application form